Futanari Mifuyu's Ultra Naughty Webcam Show
[3D Hentai Video] Futanari Mifuyu's Ultra Naughty Webcam Show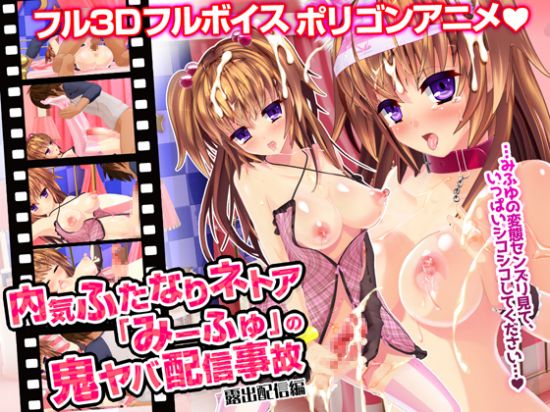 Release : Nov/27/2015
Presenting a Misakura Nankotsu/Harthnir x MiMiA Cute collaboration:
high quality 3DCG FULL VOICE polygon anime episode #1!!

Sexy webcam dancing, reverse fellatio, bowlegged masturbation,
a rich soup of ultra hentai play!

* Story
"Watch me cum everybody, I want you to stroke it lots... <3"

Was this freshman tease about to masturbate for everyone?

Mifuyu Hiiragi was a 1st year student
with a penis that she was careful not to reveal to classmates,
always tucking it in tight, and stressed out by her secret.

At home she made up for her repressed social life
by broadcasting her true self on social media, and of course:
she was a wild wanking camwhore. Once she got going,
she couldn't stop. AND NOBODY WANTS HER TO!!

"Hanyaaaan! Hi everyone, it's, me hentai futanari girl Miiii-fyuuu desu.
Are you ready to ruin your monitors with me in a big hard c*ckstroke together?"

Her only anonymity was that she used to hide her face...
But all the commenters said things like "so pretty" and "so hot"......!

What Mifuyu doesn't know...
There's a particular fan watching...
Size : 2859 Mb


3d
futanari