[Hentai RPG] The Epic Adventure of Heroic Feri-chan!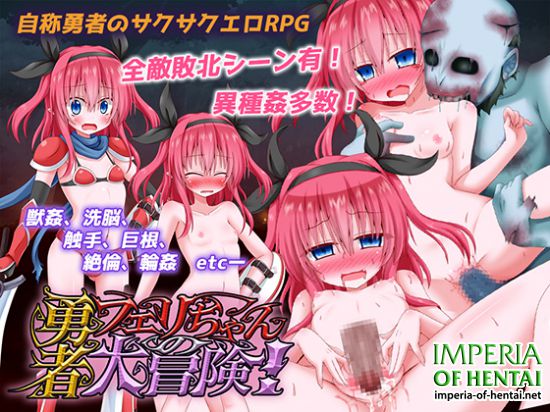 Release : July/17/2017
[Story]
"Feri" used to dream of becoming a Diva but one day she had an epiphany.
"If I become famous first, wouldn't that be a short-cut to my dream?!"
...and thus, instead, Feri-chan became a Hero instead.

She is subsequently tricked into receiving a quest to defeat the demon lord...!?

[Characters]
Feri is an adventuring hero that is trying her best but...
violation awaits her around every corner!
But don't worry, the people at the bar will 'help' her...

Bright, energetic and audacious, Feri-chan's
resolve to defeat evil ? is stronger than any one else!

[Erotic Scenes]
There are erotic defeat scenes for every enemy in game!
From zombies to the demon lord, a variety of interspecies violation!

* Attack from behind for a tactical advantage!
(Enemies are symbol encounters.)
* Battles proceed smoooooothly. No problem!
* The bosses are truly BOSSES! Turn style command battles.
* Plenty of replayability with New Game+
Size : 96 Mb


Lolicon
Fantasy
Violation
Humiliation
Rape
Bestiality
Interspecies Sex
ファンタジー
陵辱
恥辱
レイプ
獣姦
異種姦
Информация
Посетители, находящиеся в группе Гости, не могут оставлять комментарии к данной публикации.