Maid for Bondage (Language: English)
[FLASH] Maid for Bondage (Language: English)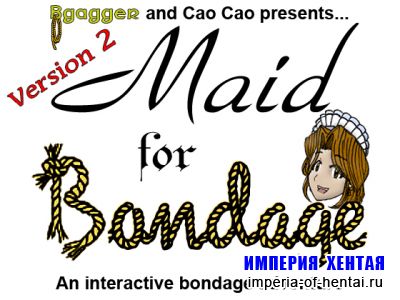 Maid for Bondage is a toy-like "sandbox" type of game. You can play as you wish with a cute maid. Take the role of Master or Mistress of the house and explore your bondage fantasies.

Features:
* Featuring original art by Cao Cao, coloring by Bgagger.
* Interact with the maid by tickling, spanking, kissing, groping, undressing, talking to her, and more...
* Advanced emotion system, with a wide range of moods that the maid can be in at any one time. From playful or adoring to angry or crying and more. The maid's mood changes as she reacts to what you do and say to her. See her expression, dialog, reactions and more, change as you play.
* You have access to several tools to restrain and gag the maid, including: rope, tape, ball gags, blindfolds, scarves, harness gags and more... Use as much rope as you want or add a multi-layer gag!
* Additional tools include a working camera, a feather duster, collar, vibrator and spreader bar as well as two customizable objects with graphics that you can modify or exchange using an external image editor of your choice.
* Highly customizable! You can change hair and eye color of the maid, her personality and name, as well as the player's name and gender. Good re-play value, play with a different maid each time.
* Contains nearly 300 sound bits. Hear her "Mmmmpfh", squeal, whine and laugh.
Size : 16 Mb


filesmonster