Last Valkyrie Leafern's Adventure
[Hentai RPG] Last Valkyrie Leafern's Adventure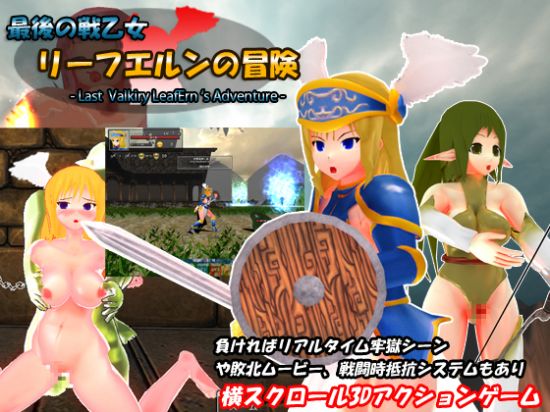 Release : Jule/26/2015
ONE LINER
Action fantasy by BLACKSUBMARINE

A battle maiden travels back in time by the power of a goddess to re-match against the giant that defeated her.

GAME
Play as Leafern the protagonist in side-scrolling 2.5D / 3D levels.
Leafern's level, lifeforce and shield ability will rise, and she can be assisted by a futanari archer.
Stages are organized into up to 5 stages + a rescue stage
For example: 1-1, 1-2, 1-3 (crystal defense), 1-4 (boss)
There are 5 giant bosses

* Enemies have special attacks... When a certain button appears, you can escape.
(If you fail to escape in a boss battle, the punishment is insta-death.)

* Movies... At the time of defeat a short movie will play.

* Prison mode (futanari elf Leafern)... There are two modes, each with H scenes.
You can touch and fondle breasts in real-time.

STORY
You are the wing-crowned valkyrie Leafern, last of her kind.
The final battle of the war (Ragnarok) was a terrible defeat.
"...If only I were stronger..."
Leafern lost consciousness.
Norun the goddess was waiting for her when she awoke.
"Your destiny, like mine, was chosen by others.
It is not the destiny you desire. You can change it.
You have the power to overcome."

In an instant, Leafern was returned to the first day she met Norun.
Size : 898 Mb


3d
valkyrie
Breasts
Foreign Object
Elf
Fairy Warrior
Vore
Futanari
Dick girl