Christiesroom.com Full SiteRip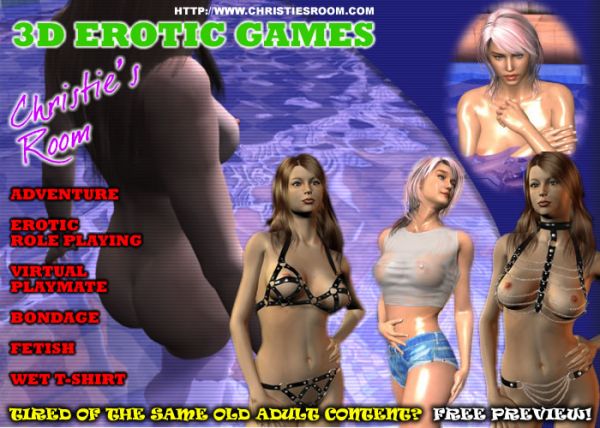 150 Flash Game + 3D Comix

More Information
Christies room is not just a sex game, it is a cornucopia of original high quality 3D erotic graphics, hardcore adult flash games, absorbing adult comics, screensavers, wallpapers, mini games and more.

A membership to Christies Room represents great value when you consider what you are getting and if you are uncertain about it you can sign up for a 4 day trial. Below you will see just what you are getting for your money.

Nearly 100 original adult Flash games
Christies Room has been online for over 8 years, and in that time they have amassed nearly 100 original adult flash games. You cannot compare the games to the dedicated sex sims like Cherry Dolls or 3D Girlz but then nor should you because that is not what they are trying to be.

The games generally require that you perform some tasks in order to progress through them and get to the sex. They run at 640 x 480 pixels and the graphics are extremely good, it would be nice if you could opt to run them at a larger screen size but this size is perfectly adequate. There are way too many games here to review them all individually but it's fair to say I tried several and all (including the older ones such as Virtual Mate) had good graphics and game play that would keep you interested.

Some of the games are serialised so you can play one game, and once you get to the end you have to load the next episode, new games and episodes are being produced all the time.

A good example of diversity was Sea Side Manor, Christie started as an innocent French maid cleaning, and ended up in an alternate world populated by green monkeys. This then leads onto a second episode where you get to have sex with 12 gorgeous girls, wicked!

The Christies Room flash games are diverse enough to keep everybody happy from regular porn and virtual sex lovers to those who prefer fetish or even hentai style partners. There are also some casino and arcade style games including strip poker and sexy bricks, whatever your taste of adult flash games you are unlikely to be disappointed.
Size : 3540 Mb


filesmonster
3DCG
3d