[3D FLASH] MERCURY HUNTER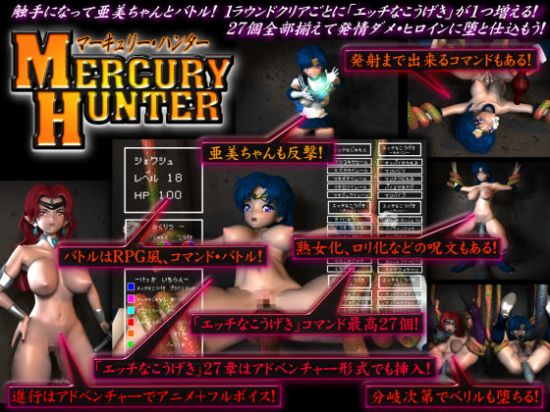 Release : Mar/08/2012
* Become the Tentacles! Defeat (the) Ami-chan! Each victory gains you another Ecchi Strike!
Degrade one heroine to quivering wet nothingness in 24 total ways! *

MERCURY HUNTER: An ADV x RPG Tentacle Assault Game
Demolish pretty sa*lor soldier with SEX. Stump the 300 IQ honor student with PENIS.
The war that has raged between these pitiful justice heroines and the Dark Kingdom
shall CLIMAX, as commanded by Queen B*ryl.
The magical girls are girls, after all. If their lust can be tapped, they will fall.
Chosen for the first sacrifice: Ami M*zuno (Sa*lor Mercury), genius student.
She has been imprisoned in the enemy lair, and all the forces of lewdness are descending...

But! Pretty soldiers never give in! She fights with all her might: it's a battle of f*ck or be f*cked...!!!

1) Adventure style story progress x RPG style battle commands and combat!

2) Play as the tentacles, with erotic moves like Ecchi Strike, Ecchi Curse... all sex maneuvers!

3) Ami-chan fights for real with powerful counterattack kicks and signature Mercury Aqua Mist!

4) Start with HP50, level up to HP100! (by clearing rounds) Watch out, if it reaches 0 you fall back to the previous round.
There are 18 total rounds, with skip/password unlocks for round 10 and 18, plus free play after you clear the ending!

5) Ecchi Strike evolves with each victory for up to 27 varieties of assault!
Choose from 5 costume, 4 nude, 7 oppai zoom, 7 full body, and 4 two-person attacks!

6) All 27 Ecchi Strike varieties are executed with ANIME + VOICE, adventure style!

7) Ecchi Strike also can be evolved to 7 types of finishing cumshots!
You can use them during battle!

8) Ecchi Curse has a robust 5 commands to turn your enemy into plump belly, loli, milf, etc.
Or play the odds: battles include an All or Nothing fight option that instantly advances you
up to 3 rounds, or slams you backward up to 3 rounds. Big risk... big reward!

9) Exploit perks during bonus rounds, too! Rounds 1, 5, 9, 13, and 17 give an advantage to Ecchi Curse. Easy victory!

... There's a lot more, too!
Size : 991 Mb


filesmonster